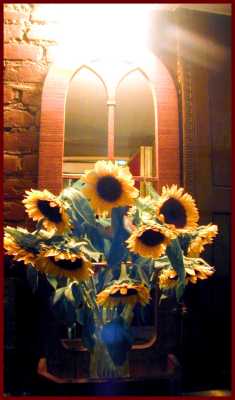 To return to the Selected Views & Reviews page, click here.
"Let the tourists gape at each other across Bleecker and MacDougal. The places with any kind of atmosphere are all a block or two away from Cafe Corner, and La Lanterna is the most atmospheric, starting outside with the eponymous gas lantern. Inside, the dark, winding quarters can be brooding or romantic, depending on your needs. Either way, the crackling fire is a big help. The espresso is powerful, the hot cocoa is strong and unsweetened, and the caffe mocha, a potent blend of the two, is topped with a thick head of whipped cream.
And the tiramisu, which has become unrecognizable as its popularity spreads far and wide, tastes of espresso, the way it's supposed to, for once."...
--"Time Out New York"